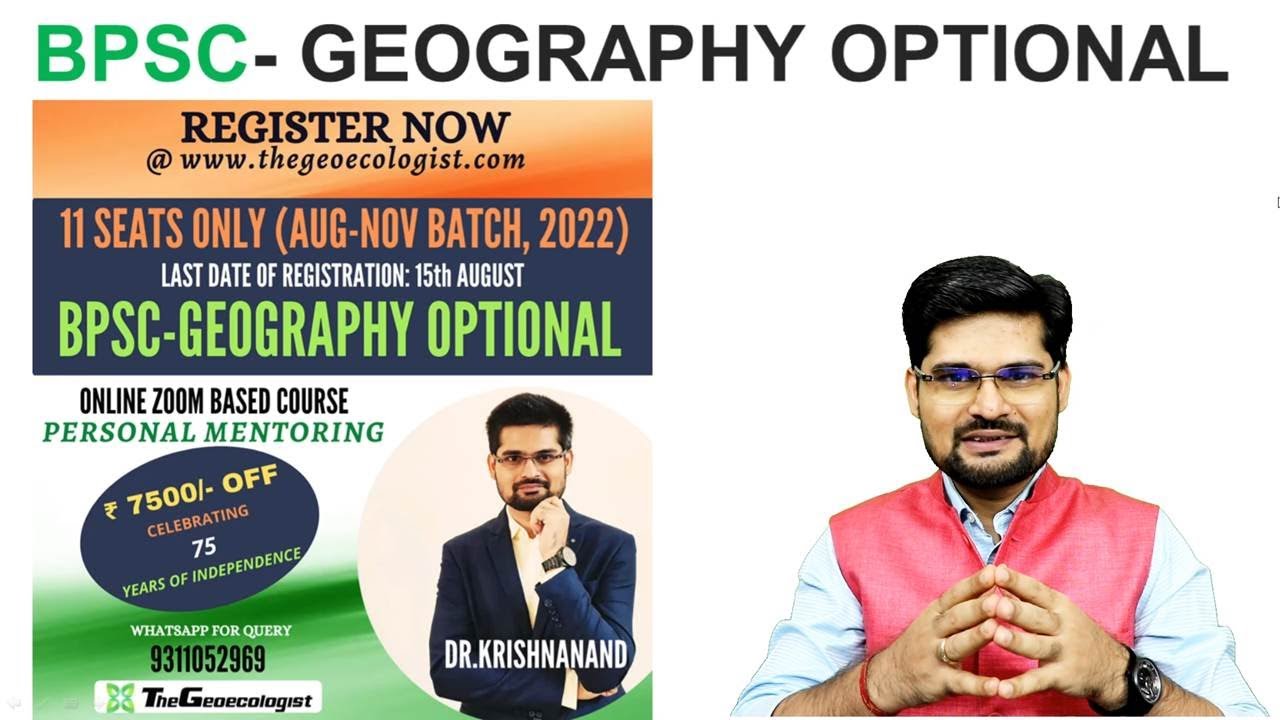 GO TO THE WEBSITE: https://thegeoecologist.com/
or Registration Link:https://thegeoecologist.com/course/bpsc-geography-optional/
Follow the steps for Registration:
STEP 1: NEW USER: CREATE ACCOUNT- ACTIVATE- LOGIN
STEP 2: GO TO ENROLL NOW OPTION- ADD TO CART
STEP 3: PROCEED FOR PAYMENT- REGISTRATION DONE
BATCH: August- November, 2022 (11 SEATS ONLY FOR PERSONAL MENTORING)
It is 3.5 months Comprehensive Online (LIVE) Course for BPSC Geography Optional to be conducted on Zoom platform by Dr. Krishnanand, Ex- Assistant Professor, University of Delhi and the Founder of "TheGeoecologist" an online learning platform.
FEE: Rs. 22,500 + 18% GST
Timing: 8:30 AM onwards (3- 4 days a week)
Course Duration: 3.5 months (August- November, 2022 )
LAST DATE OF REGISTRATION: 15th August,2022, Midnight
Classes shall be held on Zoom App, in Mixed Language ( English +Hindi)
Duration of Class: 1.5 hrs.
Course Highlights
1. ONLY "11 Students" on First-Come-First-Served basis will be admitted
2. Comprehensive Learning the Syllabus for Geography Optional-BPSC
3. Approach and Strategy for Comprehensive Learning
4. Answer Writing in English medium only
5. Provision of Class Study Material (PDF)+ Other sources of Reading
5. Personal Mentoring, Evaluation and Guidance till exam
TERMS AND CONDITIONS FOR COURSE FEE PAYMENT OF : Rs. 22,500+ 18 % GST
NOTE: NO REFUND OF FEE SHALL BE MADE ONCE THE REGISTRATION IS DONE, EVEN IF THE STUDENT DECIDES TO QUIT ON ANY PERSONAL GROUND IN BETWEEN THE COURSE.
PS. Once the registration is complete after making Payment through our website, the aspirant will be added to the official WhatsApp group for further communication.
CONTACT FOR ANY FURTHER QUERY:
Ph. No. +91- 9311052969
Email: thegeoecologist@gmail.com
Dr. Krishnanand (TheGeoecologist on YOUTUBE/INSTAGRAM/FACEBOOK)Join this channel to get access to perks:
https://www.youtube.com/channel/UC3–K-h857r2WOUejAGgk8g/join
SUBSCRIBE to the YouTube channel THEGEOECOLOGIST, to get notification about our recent lecture uploads on Geography Optional for UPSC.
Follow us on the following links for the latest updates :
Email: krishna.geography@gmail.com
Visit our Website: https://thegeoecologist.com/
Follow us on Instagram @: https://www.instagram.com/thegeoecologist/

source