This online Geography Revision Course for M.A. Entrance and UGC NET Exam ( 45 days Validity) has been created by Dr. Krishnanand, Founder and Director of TheGeoecologist. Its purpose is to provide one stop solution in short time for the aspirants of UGC NET Geography Paper 2 and M.A. Geography Entrance. All contents of the course is strictly based on CBCS syllabus of Geography at Undergraduate level and some more additions have been done using NCERT and other text book sources. This online revision course for geography is for every such student who is interested in understanding the concepts of undergraduate level of geography from MCQs approach and exam perspective.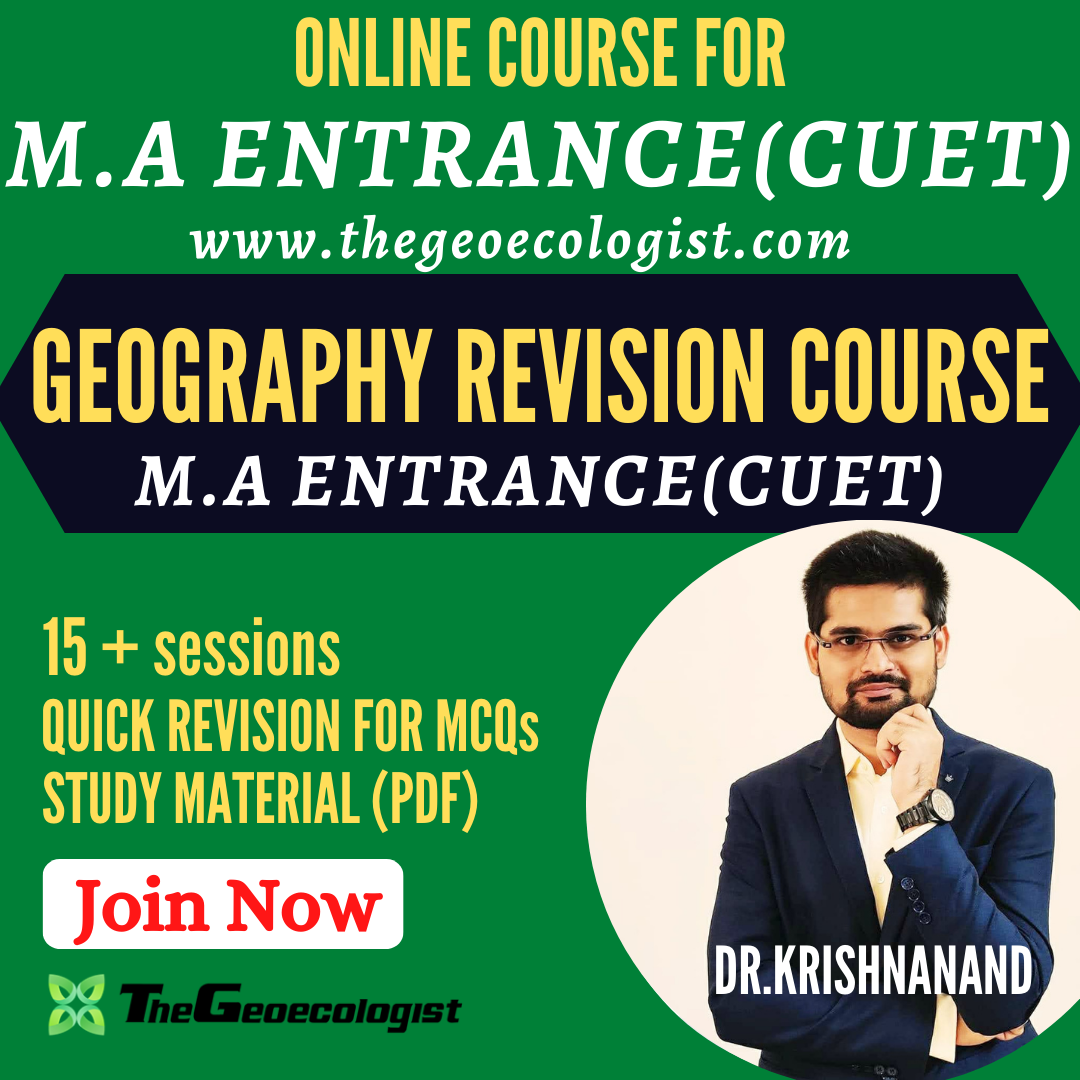 Course Highlights ( 45 days validity)
1. All the video lectures (recorded in online classroom), alongside downloadable study material (pdf) are made in accordance with undergraduate geography syllabus.
2. Guidance and Mentorship has been given in order to facilitate MCQs based approach of learning for UGC NET and M.A. Entrance exams like DUET, JNU, JAMIA, BHU etc.
3. The aspirants get to learn and revise the entire geography syllabus in gist at one place along with MCQs Test Series on our website itself.
4. Comprehensive Revision of the Key Concepts
5. Approach and Strategy for M.A/M.Sc. Entrance Exam/UGC NET
6. Provision of Class Study Material (PDF)
7. 15+ lectures
NOTE: THIS COURSE IS MEANT TO PROVIDE REVISION TO STUDENTS WHO ALREADY HAVE STUDIED GEOGRAPHY AT UNDERGRADAUTE LEVEL.
CONTACT FOR ANY QUERY:
Ph. No. +91- 9311052969
Email: krishna.geography@gmail.com
Dr. Krishnanand (TheGeoecologist on Youtube)
Lecture 1- Geomorphology Part 1

1 month, 2 weeks

Lecture 2 – Geomorphology Part 2

1 month, 2 weeks

Lecture 3 – Climatology Part 1

1 month, 2 weeks

Lecture 4- Climatology Part 2

1 month, 2 weeks

Lecture 5 -Oceanography

1 month, 2 weeks

Lecture 6 – Biogeography & Environmental Geography

1 month, 2 weeks

Lecture 7 -Population Geography

1 month, 2 weeks

Lecture 8 – Settlement Geography

1 month, 2 weeks

Lecture 9-Economic Geography

1 month, 2 weeks

Lecture 10-Regional Geography

1 month, 2 weeks

Lecture 11-Geography of India-Part 1

1 month, 2 weeks

Lecture 12-Geography of India-Part 2

1 month, 2 weeks

Lecture 13 -Geographical Thought- Part1

1 month, 2 weeks

Lecture 14 -Geographical Thought Part 2

1 month, 2 weeks

Lecture 15-Geographical Thought Part 3

1 month, 2 weeks
GEOGRAPHICAL TECHNIQUES- Practical Geography

1 month, 2 weeks